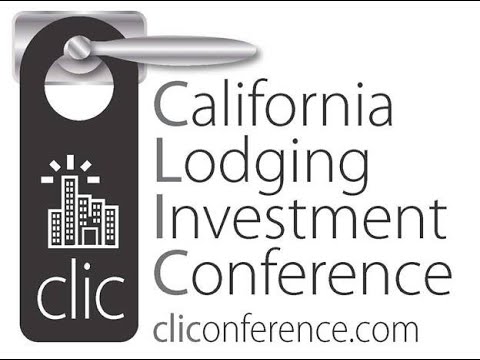 Live event Set for October 5, 2021 in Anaheim, CA
ORANGE COUNTY, CA – 3.16.21 — The virtual component of the 5th Annual California Lodging Investment Conference [CLIC] was successfully held March 4th, 2021, with the live and in person edition coming October 5, 2021, to the newly opened jewel of the Anaheim Resort Area, the JW Marriott Anaheim Resort.
The virtual event featured two major hotel industry panels as well as a keynote speech on the California new hotel construction pipeline delivered by Bruce Ford of Lodging Econometrics. Additionally, eight major hotel companies and many other exhibitors took part as sponsors for the event.
"While we were hoping to host the event live in person, we decided to create this extra value virtual component for our attendees and our sponsors in anticipation of our rescheduled event in October," said [CLIC] founder Craig Sullivan. "Fortunately, the online experience was sold out and we look forward to meeting in person this fall."
Panels included Hotel Investment in a COVID-19 World, moderated by No Vacancy News' Glenn Haussman, and included Jim Butler, JMBM; Jenny Redlin, Partner ESI; Luigi Major, HVS, Biran Patel, AAHOA; Kevin Lipson Real Insight Market Place; Bijal Patel, CHLA; and Keegan Bisch, Stonehill. Then, the Overview of the CA Hotel Market was moderated by Jackie Collins, Gallagher Companies and featured Mark LeBlanc, Aimbridge Hospitality, Suzanne Mellen, HVS; Mark Crisci, Azul Hospitality Group; Alan Reay, Atlas Hospitality Group; Jeanne Muscolino, JCJ Architecture; Lynetta Montoya, Latino Hotel Owners Association; and Ron Kim – Prospera Hotels.
[CLIC] is the only conference focused exclusively on the California hotel market, one of the country's largest. With approximately 5,956 Hotels (open brand and independent hotels with 20 keys or more) that is nearly 555,000 rooms in CA and 159 new hotels under construction adding 23,831 keys to the inventory, along with 262 hotel projects in "early planning" equaling more than 33,600 more rooms according to Bruce Ford of Lodging Econometrics.
To learn more about [CLIC] please visit cliconference.com sign up for our blog for updates. Registration is now open for [CLIC] 5 at https://cliconference.com/registration/.