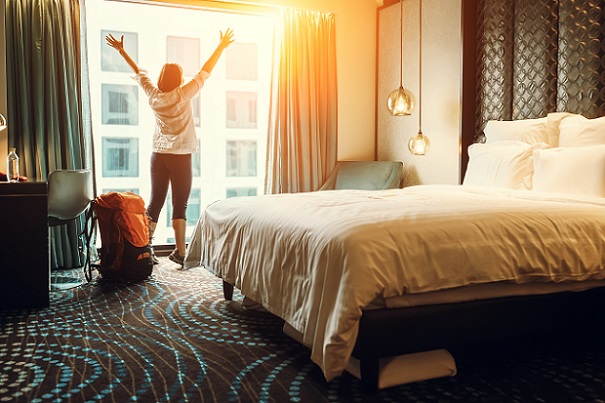 Social distancing requirements have limited the number of people that can safely be at a venue at the same time. Thus, brick & mortar businesses have come up with the "Bring Your Own Bubble (BYOB) concept. The idea is trending in the hospitality industry, where boutique hotels are offering exclusive spaces to families or groups of people who wish to travel and socialize together without contracting COVID-19.
Hotel BYOB Offerings
The hotels offering BYOB packages let groups that need extra space reserve alternative suites or adjacent rooms. Some are able to book entire hotel floors. These exclusive spaces come with elevated experiences such as:
Spa to-go kit – This will have instructions on how guests can make the most of their relaxation time on the property.

Private cocktail sessions – Guests are offered a safe way to enjoy self-serve activities. The package may come with a bartender to serve beverages to guests in their rooms.

Amenities – These may entail personalized room configurations and exclusive access to floor-wide conference facilities.
Different groups taking advantage of BYOB packages include corporate travelers who need privacy for their traveling executives and bridal parties. High-profile guests or entertainment groups that need superior security levels are also exploring BYOB travel options.
How Operators Are Pulling It off
Before the pandemic, hotels couldn't offer BYOB packages at scale due to the usually high occupancy. However, the reduced travel has lowered occupancy levels, resulting in lower demand for on-property facilities like conference rooms and fitness centers.
As more hotels open up their amenities to the public in line with their state pandemic safety guidelines, they're offering BYOB packages on a reservation basis. This system enables them to control the number of people coming in at any specific time while ensuring systematic sanitization for the guests.
Increased travel due to relaxed state restrictions means that boutique hotels can offer entire floors exclusively to a family or friends traveling together. This enables guests to socialize and have fun without pandemic-related anxieties or concerns.
BYOB Packages Revenue Management
Boutique hotels recognize that the exclusivity they're offering to guests is a premium service that should naturally attract a price premium.  In most cases, demand is very crucial and prices vary by room or amenity type. For example, in case of a popular event in the city, such as a concert or citywide event, reserving an entire hotel floor may attract an extra premium.
Hotel BYOB Packages Going Forward
Initially, demand for BOYB packages was low. Nevertheless, hoteliers hope this will change going into the summer. Demand will likely get stronger as BYOB offerings continue to appeal to business groups that wish to travel together but are concerned about the safety of the trip.
However, the operational flexibility adopted by most hotels won't last long as demand gets back to normal. Operators will need some time to reconfigure their BYOB offerings to accommodate everyone's interests. The need to provide exclusive spaces for guests traveling in groups may be here to stay as more people have rediscovered the value of face-to-face interactions.
To learn about the latest hospitality trends and to find out how this virtual event explores hotel industry insights contact the California Lodging Investment Conference today.