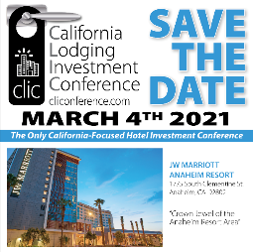 Annual California focused conference set for March 4, 2021
ORANGE COUNTY, CA – 9.14.20 — The 5th Annual California Lodging Investment Conference [CLIC] will be held March 4th, 2021 at the newly opened jewel of the Anaheim Resort Area, the JW Marriott Anaheim Resort.
The March 2020 edition of CLIC was the last in person hotel business financially focused conference to take place prior to covid-19 health crisis. The 2021 event will be highly focused on creating a productive in-person event while simultaneously adhering to the strictest health and safety protocols designed to help us all get back to business.
"This crisis has taken unimaginable toll on our spirits, as well as the wellbeing of the lodging business.  We hope by gathering in person we will become a beacon of positivity and help set the tone for people to find success in our new reality," said CLIC founder Craig Sullivan.
[CLIC] is the only conference focused exclusively on the California hotel market, the country's largest. With approximately 10,000 Hotels is CA and 170 new hotels under construction adding 26,270 keys to the inventory, along with 218 hotel projects in "early planning" equaling more than 29,000 more rooms. We are one of the largest Hotel Markets in the US.  The California hotel market is amazing and you should plan on attending….
To learn more about [CLIC] please visit cliconference.com sign up for our blog for updates. Registration will open on Oct. 1st, 2020.
Contact:
Craig Sullivan