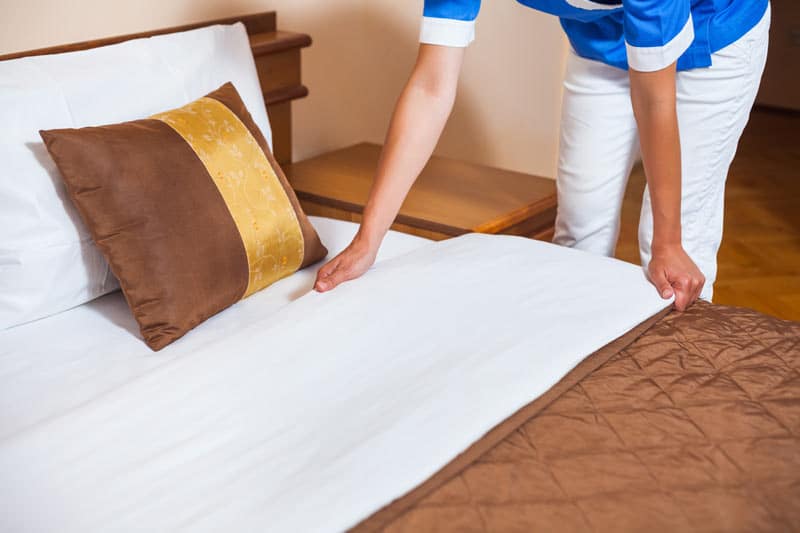 Offering the right perks to impress guests and boost revenue per available room (RevPAR).
Revenue per available room (RevPAR) is an accurate measure of how a hotel is doing.  This measure takes into account the hotel's occupancy rate and its average daily rate to get a more exact estimate of the revenue that the property is bringing in.  If your hotel's RevPAR is low, then simply lowering your rates is not enough to fill vacancies and improve revenue.  Instead, it's usually smarter to offer guests better amenities and luxuries.  The more a guest gets from a visit, the better the chances of them leaving you a positive review and returning to your property again.  This, in turn, will improve occupancy and, subsequently, your RevPAR.  If you would like to impress and endear your guests, then here are some of the little luxuries they will appreciate.
If you want to charge more for your rooms, you need to look the part.  If your guestrooms and communal spaces are starting to look run down and outdated, then this will not leave a positive impression on your guests.  Reupholstering furniture, painting, replacing textiles, and so on are great ways to make your hotel more appealing and inviting.  Offering freshly updated rooms will also justify you raising your rates.
While often overlooked, room service is a major asset.  Guests value the convenience and luxury that comes with room service and typically don't mind paying more to receive this service.  To boost the value of this service, you should also offer special room service packages for events like engagements, weddings, honeymoons, anniversaries, birthdays, and so on.
Focus on Housekeeping Services
Nothing turns a guest off faster than a dirty room.  To ensure that your guestrooms leave a positive impression, it's vital to invest in good housekeeping.  When hiring housekeeping staff, it's important to look for applicants that have experience and are willing to go the extra mile.  You also need to invest in comprehensive training, so your staff knows what is expected of them.  Pristine rooms will impress guests and justify you charging more.
Offer Additional Amenities
Hotels that offer extra amenities can justify charging their guests higher rates.  If you have the budget and space, then investing in a pool, spa, gym, and other recreational spaces is a great way to appeal to guests.  If money and space are issues, then you should consider offering simpler amenities like free Wi-Fi, complimentary breakfast, and valet parking for your guests.
These are some of the little luxuries that will improve guest satisfaction and your RevPAR.  Are you interested in learning more about strategies to improve guest experience and property revenue?  Then get the information you need by meeting and connecting with all the top California lodging professionals at the California Lodging Investment Conference.  Contact us today to learn more about this fantastic informational and networking event.