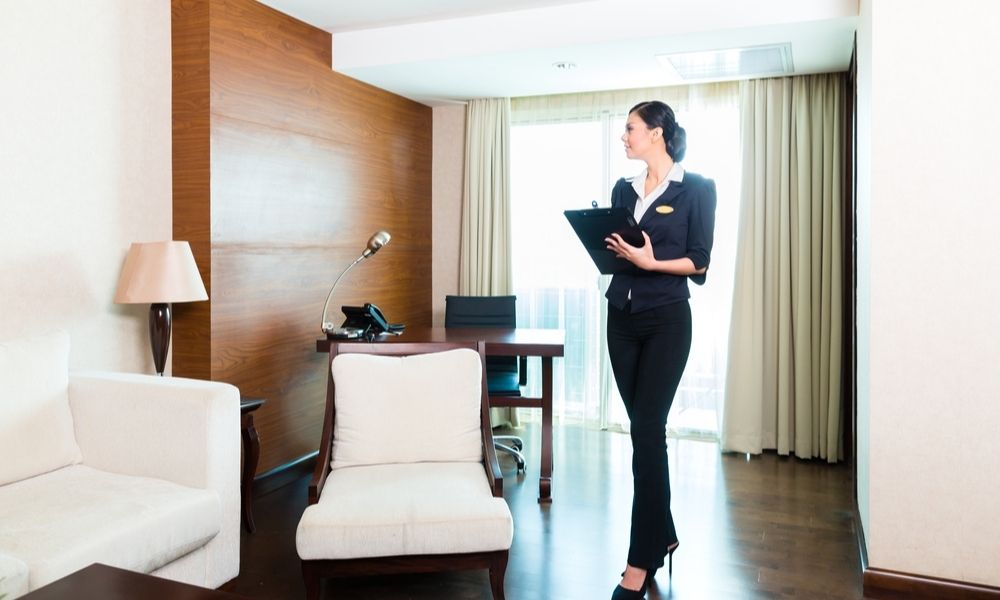 If you pursue a career in the hospitality industry, you'll need to learn certain terms such as Hotel Occupancy Rate (OR) and Average Length of Stay (LOS). These terms aren't that complicated to understand, and a computer system will generate the numbers for you. Here are the most common metrics used among hotel management.
Average Daily Rate (ADR)

ADR is the most commonly cited metric in the hospitality business. It reflects the average amount of money the hotel earns per sold room. The average is taken only from sold rooms, which might differ from the "rack rate." The rack rate is the advertised rate and is the highest possible rate, as some rooms are sold at discounts. If ten rooms sell at $300 per night each, the ADR is $300. It would be a lower average if some rooms were sold at discount rates.

Revenue Per Available Room (RevPAR)

RevPAR gives you a deeper view of hotel performance because it includes the total number of rooms (sold and unsold) on average. The metric is calculated by dividing total room revenue by the total number of hotel rooms. So, if the hotel has 100 rooms and only one $300 room sells in a day, the RevPAR is $3. Some hotels use an alternative calculation method in which room revenue is multiplied by occupancy.

Revenue Per Available Customer (RevPAC)

Knowing the number of guests in the hotel gives you a clearer picture of total occupancy. RevPAC is calculated by dividing total room revenue by several guests. It can reflect guests are spending the night and daytime visitors. This metric helps reveal the value each guest brings to the hotel. Depending on the hotel's amenities and other offerings, RevPAC can be useful for measuring the impact of families on hotel spending.

Cost Per Occupied Room (CPOR)

CPOR is an important metric that reflects room costs when you factor in cleaning costs, meals, the laundry room, and more. But it does not include certain costs that come with every room, such as TV, phone, and internet connectivity. The equation for CPOR starts with gross operating profit minus cost of goods sold, then operating expenses are subtracted. This net figure is then divided by the total number of rooms available.

Net Operating Income (NOI)

NOI is the key figure for the valuation of a hotel property. It combines total revenue from various streams and then subtracts selected operating expenses. Some of these expenses might include labor, maintenance, and marketing. NOI is similar to the financial assessment metric EBITDA (earnings before interest, taxes, depreciation, and amortization). Some hotels value NOI data even more than ADR or RevPAR to measure the company's success.
Boosting Performance with Hotel Metrics
You can improve your hotel business performance by paying close attention to the most important metrics used in the hospitality industry. Hotel software can deliver these valuable statistics in real-time. If you want to learn more about the design and construction of hotels and metrics that reflect company performance, contact us at California Lodging Investment Conference. We will help you understand all the metrics related to the hotel business.