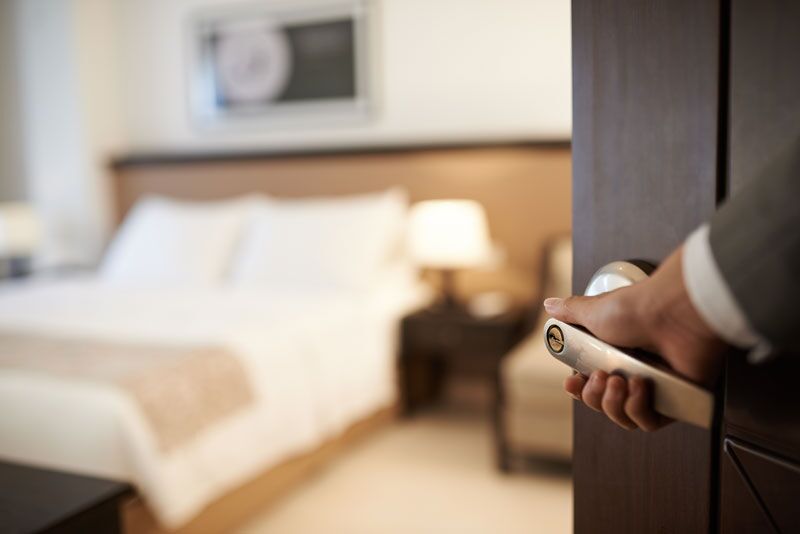 Steps to take to improve the safety of your hotel property.
Regardless of the size, type, or location of your hotel, every property owner's first priority is creating a safe environment for guests and staff.  However, improving hotel safety is no simple task; it involves continuous effort and coordination between owners, hotel staff, and regulatory agencies.  Here are some of the things you should consider when making your hotel property safer.
When most people think about the risks that hotels face, they tend to imagine catastrophic events such as fires and natural disasters.  While these are certainly threats that hotel management and staff need to plan for, hotel safety also encompasses a wide range of smaller concerns and issues.  For instance, it can refer to the security of guest belongings, protecting employees from on-the-job injuries, verifying food safety, and a slew of other concerns.
So, with this broader understanding of hotel safety in mind, what can hotel owners do to ensure that their property is safe for everyone?  As mentioned, creating a safe environment is a multi-step process that requires a considerable amount of effort from all involved parties.  Hotel owners and management should start by identifying the various risks that they face.  This involves answering questions regarding the likelihood of dealing with various risks and how damaging each type of threat would be.  From there, owners and managers need to create safety procedures and policies for staff to follow, so they know how to avoid or handle various risks.  This step requires comprehensive training, development, and assessment of staff members to ensure that they understand their duties and roles from a safety and security standpoint.
Remember that creating a safe hotel environment requires ongoing work.  Hotel owners and management must regularly inspect their properties, looking for new or evolving risks.  They must also self-audit their existing safety protocols and identify areas of weakness.  Continually updating safety standards and employee training will reduce the chances of a property experiencing a major loss or liability event.
Hotel owners that are struggling to create a safety plan can look to local resources and authorities for assistance.  For instance, they should familiarize themselves with their local laws and property requirements.  Verifying that a hotel property adheres to local building codes and meets existing safety requirements is essential.  Hotel owners can request codes officers and fire marshals to come and inspect their properties.  These experts can provide insight into how a property can be improved to maximize the safety and security of everyone who works and stays there.
Because there is such a diverse array of safety concerns on hotel properties, it is difficult to anticipate and plan for every unique type of risk.  However, with vigilance, dedication, and a willingness to go the extra mile, hotel owners can create a safe environment for guests and staff alike.
This is what it takes to make your hotel safer.  Want to stay up-to-date with all the latest hospitality news and trends?  Then get the information you need by meeting and connecting with all the top California lodging professionals at the California Lodging Investment Conference.  Contact us today to learn more about this fantastic informational and networking event.